Black Academic Excellence Initiative
UC San Diego's Black Academic Excellence Initiative helps strengthen support for our Black campus community and aims to improve the presence and experience of Black faculty, students, and staff.
Executive Summary
In 2016, UC San Diego launched the Black Academic Excellence Initiative. Vice Chancellor for Equity, Diversity, and Inclusion, Becky Petitt charged the BAEI Advisory Committee to develop recommendations that would improve the presence and experience of Black faculty, undergraduate and graduate students, and staff.
The Advisory Committee is comprised of UC San Diego students, staff, and faculty with extensive professional and personal experiences in critical areas of campus life that impact Black populations: programming planning, expansion, and assessment, admissions, recruitment, retention, equity, access, and success, human resources, and many more.
Benefits to the Campus
Diversity of thought and ideas significantly enriches the academic experience and improves the depth and breadth of the experience for all at UC San Diego. Our Black community—that has been historically underrepresented at UC San Diego—contributes to this rich working, teaching, and learning environment.
Success of the Black Academic Excellence Initiative will be realized by a transformation in the experiences of Black students, faculty, and staff on campus through increased enrollment of Black students, persistence and graduation rates, increased levels of engagement and participation in co-curricular, academic and socio-emotional supports; improved retention for all groups, and an increased presence of Black faculty and staff. These successes will improve the climate for diversity, equity, and inclusion for all. 
Why Now?
Of all ethnic groups completing campus climate assessments, Black students, faculty and staff report that they are among the least satisfied with their experience at UC San Diego. Low numbers of Black peers lead to generally feeling disconnected from campus.
It is important that we acknowledge, and not ignore, the current racial climate in the United States and the histories that produced it. As one of the world's best public universities, we can start by changing our own campus, fostering an environment of equity, diversity, and inclusion for our Black community.
Challenges as Identified by the Committee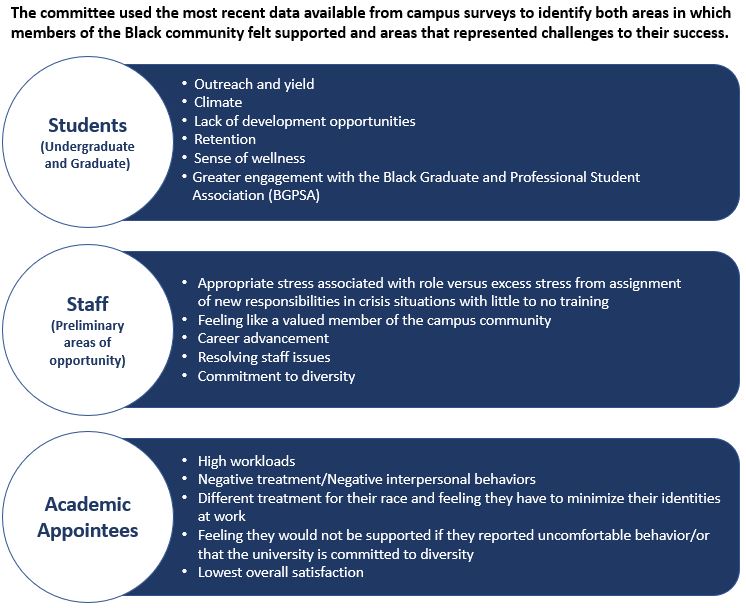 The Advisory Committee representation is comprised of undergraduate and graduate students, staff, and faculty situated at several levels in the university.
Co-Chairs

Makeba Jones, Education Studies
Ivan Evans, Eleanor Roosevelt College
Diane Forbes Berthoud, EDI

Faculty

King Britt, Music 
Adam Burgasser, Physics
Thandeka Chapman, Education Studies
Douglass Forbes, Cell and Developmental Biology
Mica Pollock, Education Studies

Staff

David Artis, Academic Enrichment
Keiara Auzenne, SIO/Director's Office
April Bjornsen, Graduate Division
Porsia Curry, Black Resource Center
Pamela Fruge, Colleges Business Office
Vonda Garcia or Designee, Financial Aid
Helen Griffith, Preuss School
Cheryl Harrelson, Development
Mya Hines, African American Studies Minor
Azizi James, Admissions
Diane LeGree, Sixth College
Charles Lu, OASIS
Susan Rinaldi, Teaching and Learning Commons
LaWana Richmond, Transportation Services
LeShane Saddler, Admissions

Students

James Crawford, Black Graduate Student Association Representative (2019-2020)
Malik Gilbert, BRC Black Student at Large (2019-2020)

Alumni

Fnann Keflezghi, UCSD Black Alumni Council (2018-present)
Undergraduate Scholarship

As of the announcement of the initiative in 2015, $314,500 raised to help students meet the rising cost of attending UC San Diego.

6th College African/Black Diaspora Living-Learning Community
Black Studies Project Seed Funding
Black Resource Center Expansion
Black Student Union (BSU) Overnight Program Augmentation
Expansion of Academic Success Support
BAEI Co-sponsorships

2018 Kwanzaa co-sponsorship
Black Graduate Student Experiences at UC San Diego Study
"Compensation": Black Deaf Representations Twenty Years On Presented by the Department of Communication, September 2019
The BAEI Committee submitted their recommendations to Enhance the Black experience at UC San Diego. A recommendation implementation work group is being formed to aid in the implementation of the recommendations. Since the submission of the report, several of the student-focused recommendations, including expanding the staff of the BRC, expansion of CAPS counselors to support Black students' well-being, and the hiring of a Graduate and Professional Student Support Coordinator to support Black graduate student retention and success, have been implemented. In regards to faculty recommendations, we are in the midst of a two-year cluster hire to increase the representation of faculty whose scholarly work is at the intersection of the Black Diaspora and STEM. 
The Scholarship
UC San Diego and the Black Alumni Council are partnering to strengthen support of Black students. The Black Academic Excellence Initiative will help grow the existing Black Alumni Scholarship Fund established by the UC San Diego Black Alumni Council in partnership with The San Diego Foundation. Gifts will support privately administered scholarships for admitted Black undergraduates to enhance campus recruitment and retention efforts.
Programmatic Support
Black students thrive in an environment that welcomes and validates all of their identities while nurturing their academic and personal development. This welcome, validation, and nurturing comes in part from faculty and staff who share similar identities and can act as role models and cultural guides as they perform their campus duties. Since this higher level of engagement and support of these students often competes for time faculty and staff need to excel in their chosen fields, our university needs to support them in achieving this critical balance.  
With this in mind, the Black Academic Excellence Initiative will garner resources to support the scholarly work of Black faculty and the professional development of Black staff. In addition, the initiative will direct resources towards programs and activities that emphasize and elevate the Black experience throughout the campus community. 
If you have questions about supporting the Black Academic Excellence Initiative, contact UC San Diego Director of Development John Duca at (858)534-8305 or jduca@ucsd.edu.